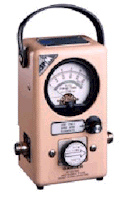 Bird developed the APM-16 for engineers and technicians who work with today™s increasingly common digital RF technologies, where accurate average power measurement with conventional CW-type wattmeters can be difficult and uncertain. Read forward or reflected power instantly and accurately, regardless of waveform, by simply rotating the element. The shock-mounted meter features a linear scale with mirror band to improve reading accuracy. Interchangeable QC connectors add to the APM-16™s versatility.Accurately measures analog and complex digital RF signals. Designed for CDMA, TDMA, FDMA, COFDM, and multi-carrier transmission systems.
Can be used for pre- or post-combiner power measurements.
Ruggedly constructed for demanding field use.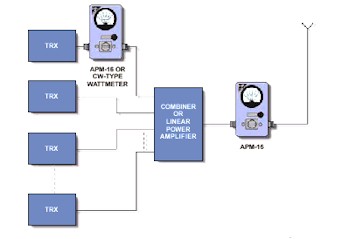 The APM-16 can accurately measure the output power of multi-carrier systems.
---
1W–1000W and 400MHz–2.3GHz for Cellular, PCS, and Other Wireless applications
APM Plug-in Elements



This subset of available APM-16 elements covers 400-2300 MHz. Other elements extend the measurement range down to 2 MHz, making the APM-16 ideal as a high-accuracy, general-purpose HF wattmeter. APM-16 to precisely match power and frequency requirements.
FREQUENCY BANDS (MHz)

POWER
RANGE
2-30
25-60
50-125
100-250
200-250
1W
APM-1E
APM-1J
APM-1K
APM-1L
APM-1M
2.5W
APM-2.5E
APM-2.5J
APM-2.5K
APM-2.5L
APM-2.5M
5W
APM-5E
APM-5J
APM-5K
APM-5L
APM-5M
10W
APM-10E
APM-10J
APM-10K
APM-10L
APM-10M
25W
APM-25E
APM-25J
APM-25K
APM-25L
APM-25M
50W
APM-50E
APM-50J
APM-50K
APM-50L
-
100W
APM-100E
APM-100J
-
-
-
250W
APM-250E
APM-250J
-
-
-
500W
APM-500E
-
-
-
-
1000W
APM-1000E
-
-
-

-