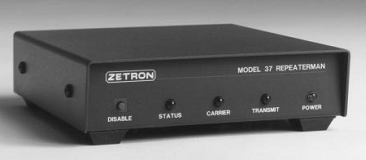 The Zetron Model 37 RepeaterMan repeater controller makes repeater control simple and economical, without sacrificing traditional Zetron quality or performance. The Model 37 and a pair of low cost simplex mobiles or a single duplex-capable radio create a sophisticated one or two-user repeater. The Model 37 can also be used to add a second user to an existing single user repeater.
The Model 37 includes the same superb CTCSS tone decoding and repeat audio quality found in other Zetron repeater controllers.
Zetron's exclusive ToneLock CTCSS tone decoding ensures that weak or over-modulated signals don't drop out.
The Model 37 also includes a special 50 CTCSS tone table, offering compatibility with nonstandard or obsolete CTCSS tones. Features like Morse code identification and courtesy tones for each user, programmable system timers, cross tone capability, and squelch tail elimination all add up to the best value in small repeater controllers.
The Model 37 RepeaterMan is ideal for use in industrial and business applications, agricultural radio systems, paging system link repeater control, and emergency communications systems. Industrial radio systems can now segregate users into two distinct groups on an existing single user radio system. A typical application might be an industrial facility's security department and building maintenance department sharing a common radio channel. Rather than listen to each department's radio traffic, the plant's security department is placed on one CTCSS tone, while the plant's maintenance staff operate on the second CTCSS tone.
The Model 37 is also an excellent choice for low cost shared repeaters for small towns or remote locations. Using the Model 37, a radio dealer can afford to offer community repeater service in areas where the higher cost of a 60 or 99 user tone panel would not have been justified.
Agricultural users who have small single user repeater systems will appreciate how easily and inexpensively a second user can be added to their systems. Public safety, emergency services, and governmental radio users will recognize the ease with which an emergency repeater can be assembled from a pair of synthesized mobile radios, providing in-band or cross band links quickly.
Features
Converts any duplex-capable base or mobile into a repeater
Carrier, one-or two-user CTCSS repeater control
Fully remote programmable using DTMF
Zetron exclusive ToneLock CTCSS tone decoding
Programmable Morse code ID and courtesy beep
50 CTCSS tone set standard
Cross tone capability standard
Programmable timeout and transmitter hang timers
Squelch tail elimination
Superb repeat audio quality