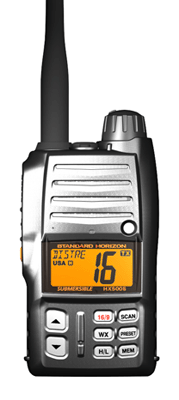 VHF DSC DISTRESS With Position When Connected to GPS Receive AM or FM Broadcasts, Aeronautical to Air Band
5, 2.5 or 1 Watt Transmit Power on Marine VHF
User selectable transmit power output allows longer talk time. Select 2.5 or 1 watt in close to shore or inside the marina or 5 watts when you need to be heard or in an emergency situation.
Submersible (IPX7: 3 ft for 30 min) and Rugged Construction
The HX500S is built to last with an impact resistant poly carbonate outer shell. This meets industry standards for water proofing of 3 feet for 30 minutes.
Unique High Intensity Distress Signalling Strobe Light
Be seen! This unique high intensity strobe light can be seen up to one mile away. In an emergency the unique, super bright LED distress strobe light blinks internationally recognized SOS to visually signal another vessel. This just might be that extra advantage you need if rescue from dark and stormy seas is necessary.
Backlit Keypad and Extra Large Display
A bright display and bold numbers takes the headache out of operating the HX500S even on the brightest day.
Channel Name Capability
All the information you need right at your fingertips. Customizable channel naming allows you to easily change the channel name for greater ease of use and channel recognition.
700 mW Loud Audio
Be heard! With 700 mW of audio power you will have no problem hearing this radio even in the loudest conditions. Add additional audio with an external speaker mic or headset.
Programmable Scan, Priority Scan, Dual Watch and Tri Watch
Select any of the channels you would like to scan with the press of a button. Select Dual Watch to scan your selected channel and channel 16 simultaneously. This way you will not miss any of the very important calls made on channel 16. Similar to Dual Watch, Priority Scan allows scanning of more than one channel with Channel 16.
Features:
Submersible, IPX7 (3 ft for 30 min)
5, 2.5 or 1 Watt Transmit Power
Rugged Construction
700 mW Loud Audio
DSC Distress Equipped. Interface the HX600S with any GPS Using the NMEA Connections on the Charging Cradle
AM/FM Radio and Aircraft Band Receive
Programmable Scan, Priority Scan, Dual Watch and Tri Watch
NOAA Weather Channels, NOAA Weather Alert, and SAME Alert
Channel Name Capability
Includes 1400mAh Rechargeable Ni-MH Battery and the 120 VAC or 12 VDC 10 Hour Chargers
Connection for Optional Speaker Microphone or Headset
Unique High Intensity Distress Signalling Strobe Light
Backlit Keypad and Extra Large Display
Hands-Free Operation (VC-24 VOX Headset Required)
Time Out Timer
Compact Size
Private Communications with the Optional FVP-31 Voice Scrambler Installed