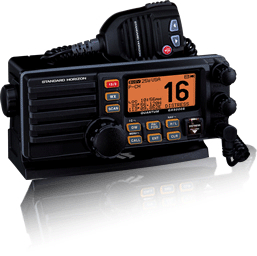 Serious Communication for Serious Boaters
Dot matrix display
High Performance 80dB receiver
Front panel microphone can be remoted to rear panel
Single second station remote microphone
Features:
OVERSIZED DOT MATRIX DISPLAY
With the bold Dot Matrix display there is no mistaking the information. The contrast and brightness can be adjusted for situations where the radio cannot be mounted directly in front of you.
DIGITAL SELECTIVE CALLING
The GX5000S meets the international requirements for Class D with a separate Channel 70 receiver, which allows DSC calls to be received even when listening to traffic on Marine VHF channels. The DSC DISTRESS function when activated transmits a digital MAYDAY including vessel identification, Latitude / Longitude and time (with GPS connected), to facilitate prompt response. Additional calls that can be made are Individual, Urgency and Safety.
PLUG AND PLAY FRONT OR REAR PANEL MIC
The standard hand microphone has a built in speaker and uses Noise canceling technology called ClearVoice for unsurpassed communications even in the noisiest environments. This microphone also has the capability to directly switch between channels 16 and 9, change channels with the large UP/Down keys and can be removed for storage. The microphone may be remoted with the MEK-4 extension kit for custom installations. The MEK-4 contains 20Ft or routing cable, Stainless Steel panel mount and screws.
30W PA AND FOG SIGNALING
The GX5000S includes a 30W Loud Hailer with Fog signals; Bells and Whistles with listen back. For added benefit, the last selected VHF channel is can be heard when in the PA or Fog mode.
2 REMOTE STATIONS
All of the features of the main radio can now be accessed through the optional RAM+ speaker microphone (CMP25) or VH-310 telephone style handset (2 connections) With a RAM+ or VH-310 connected, the GX5000S becomes an intercom system allowing two way private communications.
AUDIO TONE CONTROL
This unique feature allows the treble and bass of the speaker audio to be adjusted for best listening. The effect is similar to adjusting the treble and bass controls on a stereo.
LOUD AUDIO
With the 2.25 inch oversized internal audio speaker you will have no problem hearing communications even in the loudest conditions.
80dB REJECTION
Advanced receiver technology rejects the reception of unwanted signals from pagers and other unwanted VHF frequencies.
OVERSIZED KNOBS AND SCANNING
Radio operation and channel selection is made easy (even with gloves) with the oversized volume, squelch and channel selector knobs The GX5000S has Dual Watch, which scans a selected channel and ch16 simultaneously allowing you to monitor a channel and not miss calls made on ch16. Programmable Scan and Priority Scan features are user programmable.
DSC POSITION REQUEST / NMEA OUTPUT
Easily share position information with other DSC equipped vessels using the position request and position sharing functions. With the push of a few buttons you can request the position of another vessel, or simply send your position information to the vessel you select. The GPS Position of a received DSC Distress or Position Request call can be shown on a STANDARD HORIZON GPS Chart plotter simply by connecting 2 NMEA wires.
3-YEAR WATERPROOF WARRANTY
If the GX5000S fails for any reason (including water damage) during normal use for the first 3 years of ownership, STANDARD HORIZON will repair or replace it free, without hassles or charges. If it fails for anytime thereafter in normal use, for as long as the original purchaser owns the radio, STANDARD Horizon's Lifetime Flat Rate and Customer Loyalty Service Programs will cover it.