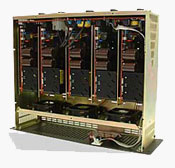 The MAS (Multiple Amplifier Series) of RF Power Amplifiers is designed for system integrators. It is designed to house up to five 100 Watts vertical slide-in amplifiers in a 19" horizontal rack, while using only 7" of vertical rack space. This packaging system accepts any TPL amplifier from VHF Low Band through 960 MHz with output levels up to 100 Watts.
Each amplifier module has a circuit breaker/on-off switch located on the front panel, along with two LED indicators for DC and RF Power, and two cooling fans. The rear panel has discrete connectors for RF and DC. Blind-mate D-SUB connectors for all connections are also available upon request.


As an accessory, a power supply unit with the ability to house up to five power supplies is available in a 5 1/4" high by 19" wide rack mount enclosure (MAS-PS), with an additional 5 Amps DC auxiliary terminal available per power supply to power an exciter, etc.