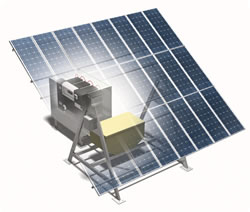 SunWize Power Stations are complete, integrated power supplies designed for site loads requiring 12, 24 or 48 volts DC and/or utility-grade AC voltage. Wired to U.S. National Electrical Code standards, each solar electric system provides safe and reliable power generation without the expense of installing utility power.
The solar array tilt is easily adjustable to maximize solar energy output. The systems are mounted on weatherproof steel structures or trailers engineered to withstand harsh environments and high wind loads. With a wide variety of options available, you can customize the Power Station to meet your power requirements.

Features and benefits
Solar modules are fully encapsulated to resist harsh weather conditions
Stand-alone or hybrid systems
Self-supporting, ballasted design requires no foundation
NEC code compliant overcurrent protection and safety disconnect
Adjustable array maximizes power output
Corrosion resistant control/battery enclosure
Installation, operation & maintenance documentation
Pre-assembled and factory tested for easy installation
Clean, renewable energy provides low environmental impact
Factory testing for quality assurance
Low maintenance and operating costs
Complete systems reduce specifying and buying time
Quality components assure long system life
Reliable, continuous power
Shipping and Handling - Power Stations are fully assembled for factory testing before shipment and then partially disassembled for shipping depending upon customer requirements. For easy assembly in the field, the battery box and prewired control box are shipped together.
Warranty - SunWize Power Stations carry a
one-year system warranty for materials and workmanship. The solar modules have a 25-year warranty. Careful component selection results in a system with a lifetime exceeding 25 years with battery replacements every five to ten years.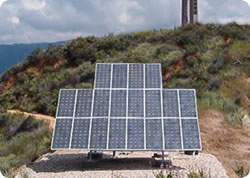 This 2400W Power Station is
used to power a
Microwave Repeater Site.
INDUSTRIAL PREPACKAGED SOLAR POWER SYSTEMS FOR:
Telecommunications
Remote Telephony
Environmental Monitoring
Disaster Relief
Emergency Power
Irrigation and Water Pumping
Security Systems
Rural Electrification