The MR-254 is a compact mobile
duplexer for use in the 148-174 MHz frequency band. It utilizes four rugged, carefully temperature compensated
helical resonators housed in a
ightweight, aluminum extrusion.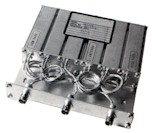 The MR-256 utilizes the same construction techniques as the MR-254, with the addition of two resonators (one for transmit and one for receive) to provide the added isolation required in some systems.