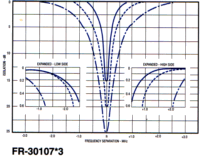 'FR' Series Notch Filters
The notch (reject) filters provide exactly the opposite response to a bandpass filter — they "notch out" or reject an unwanted frequency, while passing all others.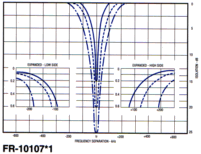 As the curves illustrate, an essentially symmetrical response is obtained where a bandpass is required, both above and below the notch reject frequency. Passband widths are at least 6% of the center frequency. In order to be easily field-tuned, a rotatable loop permits variable notch depth and a venire tuning nut allows for fine frequency adjustment.
'FR' Notch Filters
Suppress sideboard noise from multicoupled transmitters on one co-located receiver frequency.
Protect multicoupled receivers further from front-end overload by the carrier of one co-located transmitter.
Generally, "Protect Many from One."