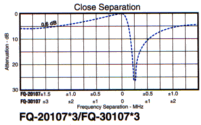 'FQ' Series Q-Circuit Filters
These filters employ the Sinclair-developed Q-circuit design. The operation of the Q-circuit is such that it inverts the characteristics of a standard notch filter, and uses the narrow resonance notch to create the circuit passband while allowing the lower Q elements, such as the loop and its reactance adjustment, to produce the relatively broad isolation notch.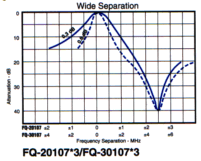 In this manner, optimum use of the cavity components is realized, resulting in close pass/reject spacing, low insertion loss, and broad isolation notch. The filters can be tuned for either high or low pass condition, with minimum frequency separations.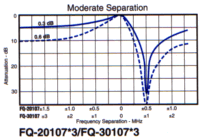 The Q-circuit filter combines the features of a bandpass and reject filter. This can be particularly useful when a close frequency might interfere with the desired frequency. For this reason, both the pass and reject frequencies and required insertion loss must be specified when ordering Q-circuit filters.
*FQ' Q-Circuit Filters
Suppress sideband noise of a single co-located transmitter on a closely-spaced receiver.
Protect a closely-spaced receiver further from front-end overload by the carrier of co-located transmitter.
Suppress IM generation in one transmitter by protecting it further from an incoming carrier of a closely-spaced co-located transmitter.
Generally, "Protect One from One" at close frequency spacing.