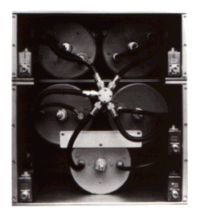 Sinclair's 'TJ' series cavity ferrite transmitter combiners are available in 2- to 5-channel configurations for use in systems from 132-960 MHz. Each channel on these combiners includes a low-loss single or dual-stage isolator and Sinclair-developed High 'Q' bandpass cavity filter. The 806-960 MHz 'TJ' series utilizes very high 'Q' three-quarter wavelength cavities, and is especially suitable for close channel separations, typically 250 kHz.
All models are 19-inch rack mountable and can be retuned in the field with simple test equipment.
The 'TJ' Series combiner is easily expanded to 20 channels, and is the building block used in many Sinclair combining systems.
Common electrical specifications are shown below. To select the combiner ideally suited to your application, please consult your Sinclair representative.