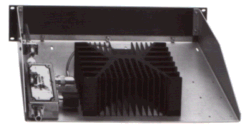 PC-4214
Sinclair's PC series panels incorporate high performance single- or dual-stage isolators with various load terminations and Sinclair-built harmonic filters.
These compact units offer optimum intermodulation control in a 19-inch rack mounted configuration.
They are shipped precisely tuned to customer specified frequency, and exhibit 35 dB or 75 dB isolation when equipped with single- or dual-stage isolators respectively.
Various load configurations are available depending on system power level and VSWR protection required.