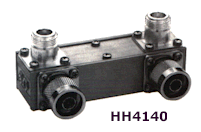 With the growing requirement for closely-spaced higher power systems, Sinclair has introduced several new hybrid couplers. These hybrids have been carefully designed to handle the power levels used for "upband" trunking and 900 MHz paging.

A UHF version is also available for use in conjunction with our new CT-453 cavity-ferrite combiners, which allows channel spacing as close as 75 kHz on an 8-channel system.

When installed on a panel with suitable Sinclair loads and harmonic filters, this series of 'HP' hybrid couplers is the basis of our higher power hybrid-ferrite combiners: a hybrid coupler panel is used to expand a 2-channel combiner up to 4 channels, 4 up to 6, etc.
All Sinclair hybrid couplers except HH-1140 are field tunable.