For growing organizations, the flexible PRO7100 radio can easily expand to meet rapidly changing business needs. Its large 14 character alphanumeric display includes user-friendly icons that make information easier to understand.
An extensive range of signaling capabilities lets you exchange text messages with your dispatcher to minimize channel usage and improve efficiency or discreetly signal for emergency help even when your vehicle is turned off.
Optional features provide convenient hands-free operation and voice storage so you can record messages or personal memos.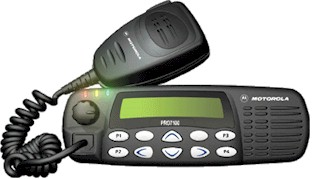 The versatility of the 128 channel PRO7100 mobile radio helps you keep productivity at its highest, no matter how fast your business grows.

Aliasing
Allows easy identification of workgroups and individuals. With this feature you do not need to remember codes or guess who is trying to reach you.

Message / Status
For messages sent over and over again, this feature is used to make communications easier and more pleasant while assuring that the message is clearly understood. Preprogrammed messages can be easily sent with a single button press. Scan List
Easily edit the contents of the scan list and modify or delete unwanted channels. Also, change the priority of the channels as your needs change. Menu Navigation
Scroll through the menu to access many features offered with the radio and customize them to your specific needs. Choices include high / low power and tone tagging for specific callers, types of calls and / or messages received.

Zoning
Allows you to group channels into different zones. Each zone can be accessed by using the zone selection buttons.