The PRO3100 radio offers a simple yet reliable business solution that delivers the basic features to keep fast-moving work teams in constant contact.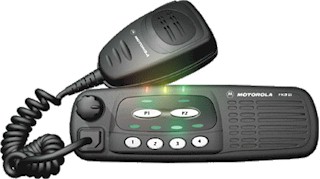 This affordable model includes limited signaling capabilities, two customizable function buttons, the ability to send pages and make phone calls, as well as an optional telephone style handset for convenient private radio conversations. Motorola's X-Pand™ audio enhancement and a large front-projecting speaker ensure clear, crisp sound, even in noisy environments.
With the PRO3100 mobile radio, efficient communication could not be easier.
Single Priority Scan
Enables you to monitor communications on different channels without having to manually switch to each channel periodically. And, if there is a channel that is most important, you can monitor it more often that the rest.
Adjustable Power Levels
Increase the power of your transmissions to reach farther by adjusting the power level of your radio. Any of the programmable buttons on the radio can be configured to temporarily switch between high and low power levels.
Repeater / Talkaround Operation
Allows unit-to-unit communications when you are out of range or the repeater is not operating.
Accessory Connector
Bring your communications closer to the ear by attaching an external speaker. In even the noisiest environments messages can be heard clearly.
Switchable Channel Spacing
Each channel can be programmed with either 12.5 kHz or 25 kHz channel spacing which allows for a single investment that will retain its value during changing regulatory environments.
X-Pand� Audio Technology
Motorola's voice compression called X-Pand™ enables 12.5 kHz channels to have as crisp, clear and strong audio quality as 25 kHz channels