The Maxon SP-200K Series radios are fully programmable UHF / VHF portables which deliver advanced features such as a DTMF keypad, multi-tone Selcall format and multiple scan modes.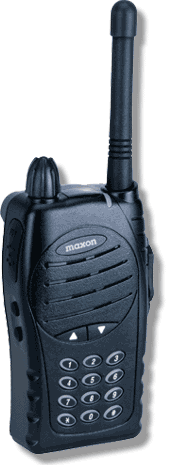 These compact and feature-rich radios offer programmable 1 or 5 Watt output settings per channel to meet your communication needs.
Multi-channel capability
Up to 13 scan groups of up to 16 channels each
DTMF Encode and keypad
Provides telephone interconnect capability and control of remote devices
Multi-tone Selcall format
Allows you to selectively call an individual or groups of people - two or five tone capability
Built-in voice inversion scrambler
Scrambles your voice for confidential communications
Multiple scan modes
Customize the radio to your personal needs
Automatic Number Identification (ANI)
Lets you keep track of who is using each radio
Covert mode
Allows you to monitor conversations without other radio user's knowledge
Secure locking accessory connector
Prevents accessories from being disconnected
Approved to MIL-STD810F specifications
The SP-200K Series radio comes complete with antenna, belt clip, battery and charger
Accessories / Options
Batteries: 1350 mAh NiMH Battery pack with center mount belt clip (ACC-206); 1350 mAh NiMH Battery pack (QPA-1350)
Antennas: UHF Antenna, 440-470 MHz, 3-1/2" , SMA (ACC-100); VHF Antenna, uncut, 148-174 MHz, SMA (ACC-102)
Chargers: Dual slot / dual rate desktop charger (ACC-400K); 6-Station universal gang charger (ACC-460); Charger cups for gang charger (ACC-462) Power supply, 110V AC, for use with ACC-400K (QPA-1411)
Audio: Ultra-lite headset with locking connector (ACC-616); Over-the-head noise-attenuating headset - requires ACC-506 adaptor (ACC-626); Behind-the-head noise-attenuating headset - requires ACC-506 adaptor
(ACC-627); Behind-the-head noise-attenuating headset (ACC-628); Ear bud speaker with in-line P-T-T, microphone and locking connector (ACC-706); Lapel speaker microphone with ear jack, locking connector (ACC-726); Heavy Duty speaker microphone with audio earphone jack (ACC-727); Coil-cord earphone, used with ACC-727, (QPA-1424); Ear speaker, for use with ACC-726 Lapel speaker microphone (WTA-9F)
Carrying: Leather case with swivel (ACC-300); Nylon case with belt clip (ACC-301)
Adaptor: 2-Pin to 1-pin accessory adaptor (ACC-506)
Features / Functions
DTMF Keypad.
Multi-channel 199 frequency configuration.
13 Scan groups with up to 16 channels per group.
Programmable 1 or 5 Watt per-channel RF power.
Programmable wide or narrow channel spacing.
Selcall (Selective calling) format.
Voice inversion scrambler.
3-Digit channel display.
Keypad lock.
CTCSS / DCS Tone signaling.
Covert mode.
Time-out-timer.
User programmable scan list of group channels.
Priority lookback scan.
Stun and revive.
ANI (Automatic Number Identification).
Dedicated monitor function button with nuisance delete.
Dedicated scan / priority button.
Single pin locking accessory connector.
Standard removable swivel belt clip.
FCC Certified for use in U.S.A. and its possessions and IC Approved for sale in Canada.