InterMod Calculator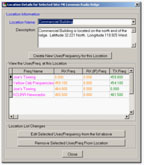 Intermodulation Study Software
Midian's InterMod Calculator predicts the possible occurrence of intermodulation products that may cause receiver interference.
APPLICATIONS
This product can be used with a notebook PC to solve intermodulation interference problems at radio repeater sites, cellular sites, military installations, airport control towers, etc.
INSTALLATION
This product is software-based. It can be installed on any PC using Windows 98 SE, NT Workstation Service Pack 6, Windows 2000 Service Pack 4, and Windows XP.
ADVANTAGES
Color-coded, clear & concise reporting

Perform intermodulation studies by site and/or multiple sites

Associate TX & RX frequency pairs with a channel name

Group transmit/receive frequencies by site

5 year warranty
FEATURES
Receiver image frequency supported

Select colors for report generation & highlighting

Odd order only or odd & even order calculations supported

In-band/out-of-band calculations supported

Programmable transmit deviation window