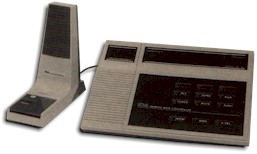 Benefits
The 24-46 has been designed with the future in mind. As your Two Way Radio communications needs change and grow, the 24-46 will keep up. Features that are an additional cost on less capable remotes are STANDARD with IDA's 24-46. Standard features that are not utilized when the equipment is acquired can easily be put in service later. Simple programming done in the field will activate and/or configure Monitor, Intercom, Mute, Alert Tone, Number of Channels, and the Auxiliaries. With multiple remotes installed in parallel the audio levels remain consistent. Even in a noisy environment you will be heard loud and clear.
Features
Field Programmable by PC.
Control & display up to four channels.
Monitor (latched or momentary).
Intercom.
Mute (latched or momentary).
Alert Tone.
Programmable Auxiliaries.
30db of Compression and 3 Watts of speaker audio.
Cost Options
Option 410 – Clock and VU Meter: Large easy to read LED display gives TIME and TX level at a glance. (Field programmable as Military or Standard time)

Option 411 – Four Wire: Programmable for full duplex or separate pairs for TX and RX.

Option 412– Supervisory / Alternate Line: Programmed as Supervisory this option allows one deskset remote to control access to the base station by other remotes. Programmed as Alternate Line allows the deskset to switch to a different base station radio with the push of a button.

Option 413 – Parallel TX Indicator: Gives visual indication of TX by another remote even while muted.

Option 414 – Additional Control Currents: of +/-15ma and +/-20ma
MODEL 24-46 ADDITIONAL PROGRAMMABLE FEATURES
Currents can be programmed for whichever function is desired: Standard available currents: 0, +/-2.5, +/-6.0, +/-11.

Disable of ON HOOK MONITOR (handset only)

Momentary F2 (always returns to F1)

Momentary Intercom

Parallel Override: (allows remote to send command currents even if parallel remote is off hook, Option 413 required)
OTHER 24-66 & 24-46 OPTIONS:
RBC-001 Wall Mounting Bracket

RBC-002 External Encode/Decode Cable

RBC-003 Programming Cable and Software
MODEL 20-18 DC ADAPTER PANEL
Reliable and flexible describes the 20-18 panel. Jumper selectable 2 wire/4 wire, switchable current schemes, and local mic jack make for easy installation. Available in its own rugged cabinet, the 20-18 can be ordered with plug and play cabling for many popular radios.
Other IDA board only adapters:
20-15 – Single function
20-16 – Dual function
20-17 – Four function