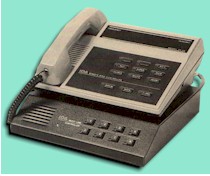 The Model 20-88 allows a single desktop remote controller to control up to 8 separate base station radios
The Model 20-88, shown here with an IDA remote, creates a space saving MINI CONSOLE
Designed to be used with any standard Tone or DC remote, the 20-88 has it's own speaker and volume control for "unselected" audio.
Indicator lights inform the operator which line is selected as well as which of the unselected lines has audio present. TOTAL MUTE of all unselected lines is accomplished via the volume control.
TIMED MUTE or NO MUTE is jumper selectable by the installer.
Features
Makes any Tone or DC remote into an eight line remote
Separate speaker volume control for unselected audio
Timed MUTE or NO MUTE is jumper selectable
2 or 4 wire is jumper selectable by line
Audio present light for each unselected line
Indicator light for selected line
Sturdy metal case
Benefits
4 Upgrading is easy and cost effective
Each operator can adjust the volume to his or her preference
Quickly and easily customize each workstation to the installation configuration needed
Visually informs the operator of radio traffic and where the traffic is located
One glance lets the operator know exactly where they are set up to transmit
Attractive and durable
Available Options
Internal lightning protection
Wall mounting bracket
Some of our more recognizable customers:

United States Forest Service
Midland
National Park Service
NASA and Lockheed
RELM and BK Radio
United States Navy
Kyodo West
Federal Express



USAIR
North Carolina Forest Service
South Carolina Electric & Gas
NorthEast Utilities Company
Raycom SA (Uruguay)
AIOC (Azerbaijan)
International Aeradio (UAE)
Saudi Ericsson