Stainless Steel Resonator Impact Spring


Model RSS-2
For applications with listed HF Mobile Antennas between the resonator and the mast.
Braided center pigtail to prevent detuning even at highway speeds.
Supplied ready to install.
Standard 3/8" x 24 threads.
Shipping weight: 0.4 lb.
Multi-Band Adapter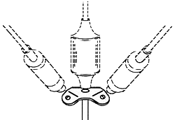 Model VP-1
Automatic band switching using any three Hustler HF mobile resonators.
Adapts any Hustler HF mast to tri-band operation easily and quickly.
For use with model MO-1, MO-2, MO-3, and MO-4.
Quick Disconnect


Model QD-2
Especially designed to prevent dirt or ice "freeze-up".
Machined to close internal tolerances to prevent antenna loss by vibration.
Made of 100% stainless steel, with a convenient press and twist antenna release.
3/8" x 24 thread male and female ends, accommodates antennas of any length.
Shipping weight: 0.4 lb.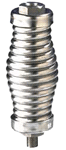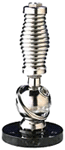 Stainless Steel Mounts
Exceptional performance and quality.
180 degree adjustable reinforced stainless ball.
Professional quality Cycolac bases for greatest mechanical stability.
Exclusive "C" backup plate allows external installation.
Supplied with all mounting hardware and the cork pad.
Applicable with all Hustler and other 3/8" x 24 thread antennas.
SSM-1 Professional Ball Mount and Spring
SSM-2 Ball Mount
SSM-3 Stainless Steel Spring with Coupling Stud.