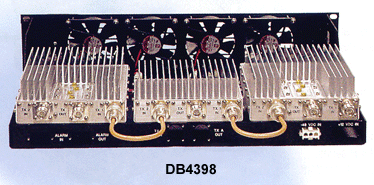 Compact and adaptable, Decibel Products' DB4398 hybrid combiners offer both high performance and the ultimate in packaging flexibility.

Employing dual-junction isolators to typically yield greater than 75 dB transmitter-to transmitter isolation, the convertible design permits variable combining for narrow frequency separations.

The isolators feed into a Wilkinson combiner, followed by a harmonic filter to generate an integrated multi-port hybrid system. An economical and reliable printed circuit board construction supplies rock-solid performance.

State of the art substrate design ensures a low insertion loss.

Compact and Convenient - Available in two styles: bracket-mountable or 2-rack unit tray.

Low Loss - Efficient design for maximum power output.

Fan Option - Available for cooling when needed.