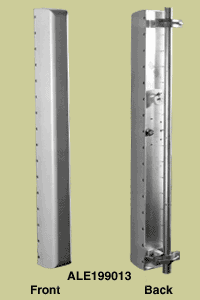 The Celwave Optimizer is a log periodic dipole antenna with continuously adjustable electrical downtilt. By utilizing the patent pending adjustable electrical downtilt feature PCS system performance can be optimized in the field.
This optimization is done simply and easily by turning a dial on the back of the antenna. The Optimizer features our patented CELlite technology, which eliminates cables and soldered joints, often the cause of reduced system performance due to potential long-term IM issues.
The Optimizer also features a high front-to-back ratio which reduces co-channel interference. The Optimizer has been shown to significantly reduce interference in actual field performance. Patent number 5,589,843.
• Continuous dial-turn adjustment of electrical downtilt
Allows electrical tilt to be changed easily without the hassles of changing out the whole antenna.
• Electrical downtilt footprint is continuously adjustable
Easy optimization of system performance and minimization of co-channel interference.
• High front-to-back ratio
Minimizes co-channel interference towards rear of site.
• Continuously adjustable electrical downtilt
Allows pilot pollution to be minimized in CDMA systems.
• For high reliability.
No solder joints
Order Information
| | |
| --- | --- |
| Item Number | Frequency Range MHz |
| ALE199013 | 1850-1990 |