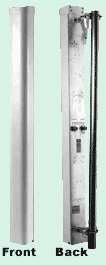 The APX199015S polarization diversity antenna is ideal for sites were zoning issues demand the use of a more aesthetically pleasing solution. By utilizing polarization diversity instead of space diversity they combine two antennas under one radome with some loss of system performance depending on the RF environment.
The APX199015S features excellent cross polarization discrimination for minimizing correlation. The high port-to-port isolation helps to protect sensitive receivers from transmitter noise.
The APX199015S uses a hybrid CELlite technology for high antenna efficiency and it is DC grounded to protect against lightning.
• Polarization Diversity
Reduces visual impact of site.
• Excellent cross polarization
Provides superior polarization diversity performance.
• Upper lobe suppression and Null-fill
Optimizes system coverage.
• DC grounded
Helps protect against lightning.
• High port-to-port isolation
Protects sensitive receivers from transmitter noise.
• Surface treated components
To prevent galvanic corrosion.
Order Information
| | |
| --- | --- |
| Item Number | Frequency Range MHz |
| APX199015S | 1850-1990 |