"Porta-Strip" Portable Power Stripping Tool Kits -- RFA-4015 & RFA-4016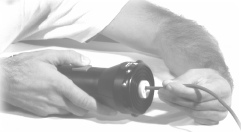 This hand-held power stripping tool will accommodate most sizes of coaxial cable. The Porta-Strip is the perfect tool for professional installers, broadcast and video studios, small manufacturers, and LAN installers.
Small, lightweight, portable, fast and easy to use, the
RFA- 015 is the tool for which every technician has been waiting. Here is the ideal, low-cost, effective alternative to expensive bench strippers.

The

RFA-4015 Portable Power Stripper Kit contains:
(1) battery-powered driver

(1) removable NiCad battery pak

(1) 1, 2, 3 or 4-level cutter head; (1) carrying case

(1) A/C charger

(1) D/C (cigarette lighter type) charge cord.
The

RFA-4016 kit is the production set-up for the Power Stripper. It is the same as the RFA-4015 kit except the NiCad battery pack is replaced by the A/C power supply.

Features: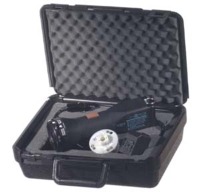 Quick changes with interchangeable cutter heads to fit all types of cables and connectors

Factory-set blades last 15,000+ strips

Hand-held NiCad battery operated

Light weight & portable

Rugged ABS carrying case

AC/DC battery charger is standard

AC converter is optional

One Year Warranty covers:

RFA-4015-01 Battery Powered Driver

RFA-4015-02 NiCad Battery Pak

RFA-4015-03 A/C Converter
Separate Accessories Available: