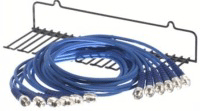 Our UNICABLE® KITS provide an ideal way to create any test cable needed. Along with the UNIDAPT® KIT you can now mix and match any combination of connectors or adapters to the ends of a 48" cable assembly.
The cable is extra flexible type RG-58A/U with 100% double shielding (copper braid over aluminum foil).

The PT-4010-030 UNIDAPT® connectors at both ends are silver plated machined brass and gold plated contacts with Teflon dielectric. The wall rack is cable friendly and keeps cables organized and in their place. Rack (RFW-1999), also sold separately.
The RFA-4040 UNICABLE® Kit is a seven piece set essential for shop or lab use. It includes a free wire rack (RFW-1999) designed for storage convenience.
The RFA-4041 UNICABLE® Kit (without rack) is a three piece package ideal for the field technician.
RFA-4070-36 36" double shield RG-58A/U with two PT-4010-30 connectors attached. RFA-4070-48 same as above, 48".
RFA-4070-72 same as above, 72"

Frequency range (DC to 1GHz) • Impedance of 50 ohms

The UNIDAPT® female to female barrel adapter allows UNICABLES® to be joined to make longer jumpers.