ID-8 Automatic Morse Station Identifier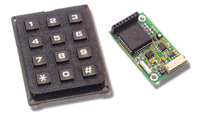 Provides automatic Morse Code identification for commercial, public safety and amateur radio applications, including repeaters, base stations, mobiles, beacons, CW memory keyers, etc.
Meets all FCC identification requirements.
Low voltage/current operation and small size make it universally applicable.
All functions are programmable with a plug-on keypad included with each unit. All programming is stored in a non-volatile EEPROM, parameters can be reprogrammed at any time. Supplied with miniature plug/wire assembly for installation, programming keypad, and mounting tape.
User Friendly Field Programmable Feature s
Eight selectable programmable messages

CW speed from 1 to 99 WPM

ID interval timer from 0 to 99 minutes

ID hold off timer from 0 to 99 seconds

CW tone frequency from 100Hz to 3000Hz.

Front porch delay interval from 0 to 9.9 seconds

Message length 216 characters

CW or MCW operation

Trigger ID and Inhibit ID, active high or low
Specifications
Size: 1.85" x 1.12" x 0.35"

6-20 vdc, unregulated @ 6 ma.

Low impedance, low distortion, adjustable sine wave output: 0-4 v peak to peak

Transmitter PTT output: open collector transistor handles 80 vdc @ 300 ma.

Temp. range: -30�C to +65�C